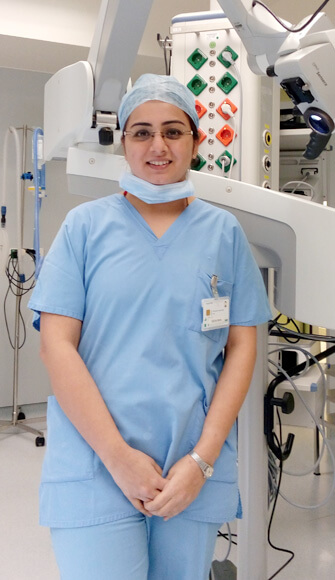 Speciality
MS ENT
Degrees
M.S. in Oto-Rhino-Laryngology, M.B.B.S.
Consultant

Desai orthopaedic and Ent Clinic, Borivali (West)
Suchak Multispeciality Hospital, Malad (East)
Phoenix Multispeciality Hospital, Borivali (West)
Aastha Orthopaedic Hospital, Kandivali (West)
Apex Super speciality hospital, Borivali West
Wockhardt hospital mira road
FELLOWSHIP IN VOICE, SWALLOWING AND AIRWAYS
UNIVERSITY HOSPITAL, SWITZERLAND
UNIVERSITY, LUXEMBOURG
Dr. Binhi H. Desai is a renowned ENT surgeon practising in the western suburb of Mumbai. She took up MBBS from Dr VNP medical college, Nashik through merit seat under government quota in 2005. She got distinction in physiology in first year MBBS. She passed all MBBS years with first class marks (2005-2011).
She did her internship training in Nair hospital, Mumbai central and Dr VNP medical college Nashik.(2010-2011)
She got post graduation in first attempt under government quota in goverment medical college, Nagpur. it is a premier institute of India. (2011-2014)
After post-graduation, She served in peripheral BMC hospital at Goregaon - Siddharth hospital, a periphery of Nair hospital for 1 year. She worked as senior registrar independently seeing 50 patients in the out-patient department daily and operating on around 300 surgeries in 1 year. owing to her keen interest, sincerity and dedication, She operated on routine ent surgeries and also on complicated surgeries such as – thyroidectomy, parotidectomy, cancer of head and neck independently. (2014-15)
She was selected for national fellowship in Laryngology and co2 training under one of the best voice surgeons in India- Dr Nupur Nerurkar at Bombay hospital. (2015-16)
She was fortunate to be accepted for an international observor fellowship in laryngology under world s best voice surgeon- Prof. Marc Remacle at university hospital, Luxembourg. (2016)
She was also priviledged to be accepted for international observor fellowship in airway under one of the best airways surgeons in the world - Prof Kishore sandu at university hospital, Lausanne, Switzerland. (2017) She has special interest in voice and swallowing.
She along with her husband have started Desai Orthopedic and ENT clinic in 2014, with the aim of providing honest care to all.
She is attached to Suchak hospital, Malad east; apex super speciality hospital Borivali west; phoenix hospital Borivali west.
She is also attached to charitable hospitals- Hitvardhak hospital, Kandivali west and Havjivan trust hospital, Malad east.
She has been a part of multiple camps in above hospitals. She also travels to south Gujarat – Vapi and Valsad to create awareness and see patients with voice and swallowing difficulty.